4/4 Stars for SONGS FOR A NEW WORLD
[et_pb_section fb_built="1″ _builder_version="4.10.8″ _module_preset="default"][et_pb_row _builder_version="4.10.8″ _module_preset="default"][et_pb_column _builder_version="4.10.8″ _module_preset="default" type="4_4″][et_pb_text _builder_version="4.10.8″ _module_preset="default" hover_enabled="0″ sticky_enabled="0″]
When composer Jason Robert Brown debuted "Songs for a New World" in 1995, that title must have rung out like a battle cry for the courageously optimistic.
This collection of 19 compositions is thematically linked not by story, but by the shared tendrils of anticipation. Each song is decidedly set before a great decision or dramatic leap. And the work seems an apt metaphor for the author. "New World" was Brown's first musical (though "song cycle" is a better descriptor). Taken as a whole, the show boils over with the excitement of an artist on the verge of success.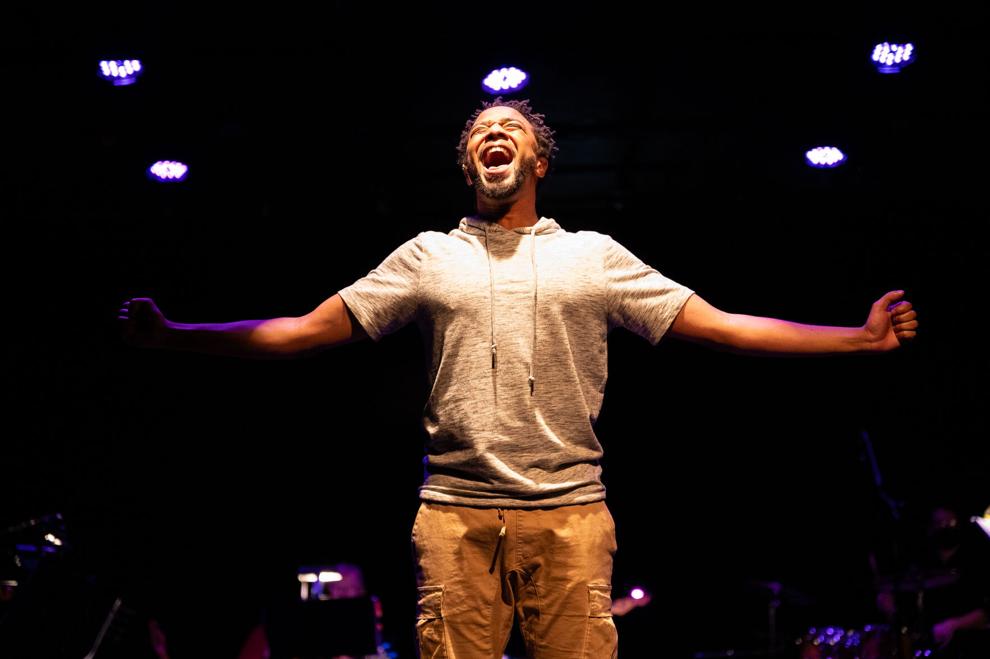 Second Generation Theatre's decision to mount the 26-year-old work as a streaming production over the summer seemed one of logistical necessity. With a cast of four and virtually no set requirement, the piece lends itself to flexible staging. Though I can't help but imagine the young company programming the show with a subversive wink. The "new world" Brown was heralding never quite came to be, and in the midst of a pandemic, that subtext reads loud and clear.
I didn't see the filmed production, but from screenshots I can understand how the experience might have worked – by bringing quarantined audiences to locations around Buffalo and letting Brown's compositions serve as a balm for the artistically starved. What's wonderful about director Amy Jakiel's in-person revival of "New World," now onstage in Shea's Smith Theatre, is how it maintains some of that cinematic flair and declares itself as defiantly theatrical in the face of continued uncertainty.
This is an intimate production – audience and performer are in close proximity – though by design it's a journey through isolation. Each song prioritizes introspection as the characters face hurdles ranging from literal manifestation (a wide-eyed explorer on the deck of a ship bound for the Americas) to absurdist melodrama (Mrs. Claus gathering strength to leave her jolly husband). Jakiel doesn't complicate things with the staging. There are little bits of choreography, but mostly the actors plant themselves and sing. Even so, she evokes the contours of a smoky bar, a Manhattan penthouse and a city street. (Televisions on set, displaying photographs from the filmed version's various locations, help with this.)
As a composer, Brown seems to be both borrowing from the past masters, and reaching toward something new. I'm reminded of Sondheim, most specifically "Company," with its balance of cynical patter and heartfelt balladry. But "New World" also anticipates a wave of pop-rock fare – including such titles as "Spring Awakening," "Next to Normal" and Brown's own "The Last Five Years" – that would dominate Broadway in the early 2000's.
Though the songs aren't connected by narrative, this cast's four distinct singers become familiar characters, the unique quality of each voice serving to anchor the audience. Brian Brown is acrobatic, showstopping in his solos. Michele Marie Roberts turns her numbers into raucous comedy routines before belting out the final notes. Singing as a couple reuniting after a separation, Genevieve Ellis and Steve Copps reveal that their secret weapon as vocalists is heartbreaking sincerity.
As with that duet, the songs that tell a full story are the most compelling. Your enjoyment will depend on how much singing you can stomach, since there's virtually no dialogue. But regardless of taste, anyone can marvel at this technically flawless production, backed by a five-piece band that does great justice to a modern classic. When all four performers share the stage with one another, blending voices, this new world is exactly what Brown imagined it could be: harmonious.
Presented by Second Generation Theatre through Nov. 14 at Shea's Smith Theatre, 658 Main St. Performances are 7:30 p.m. Thursdays and Fridays, 2 and 8 p.m. Saturdays and 2 p.m. Sundays. No performances Nov. 4-7. Tickets are $30 general, $25 seniors and $15 students (847-0850 and online at Second Generation Theatre).
[/et_pb_text][/et_pb_column][/et_pb_row][/et_pb_section]