SGT's 2018-2019 Season Tickets
Season Tickets are now on sale for SGT's upcoming season! The $75 three-show package includes  BIG FISH (October 2018), ANGELS IN AMERICA: Part One, Millennium Approaches (March 2019) and NINE (June 2019). Individual tickets will go on sale in late summer 2018.
Location: Shea's Smith Theatre, 658 Main Street, Buffalo NY 14202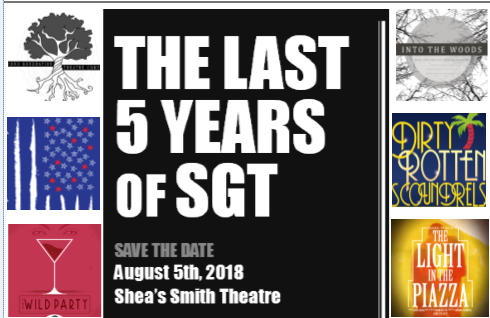 Join the SGT founders and your favorite actors from previous productions as we celebrate our move to the Shea's Smith Theatre with a one night only concert event! 
The evening will feature numbers and highlights from our past 5 seasons of musical productions, including: Into The Woods, Assassins, The Wild Party, Dirty Rotten Scoundrels & The Light In The Piazza.
Date: August 5, 2018
Location: Shea's Smith Theatre, 658 Main Street, Buffalo NY 14202