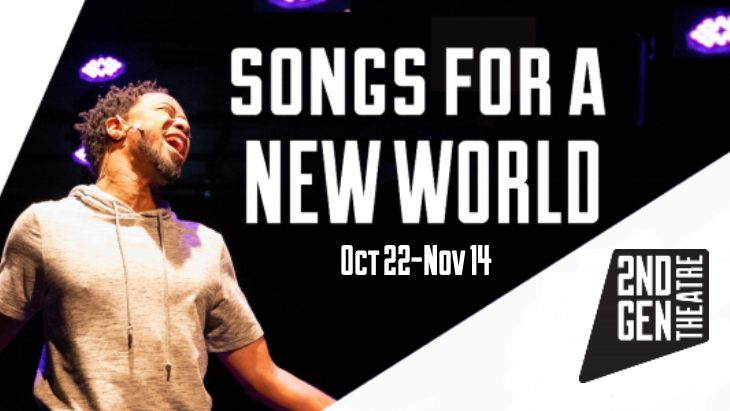 Music & Lyrics by Jason Robert Brown
Second Generation Theatre (SGT) is delighted to welcome our audiences back into the Shea's Smith with an in-person performance of Jason Robert Brown's musical SONGS FOR A NEW WORLD. Building from the June production which was filmed all over Buffalo, NY, SONGS welcomes back Michele Marie Roberts, Brian Brown, Genevieve Ellis, and Steve Copps and features Chris Cavanagh's beautiful videography. A song cycle full of love, loss, hope, and discovery, SONGS FOR A NEW WORLD is a celebration not to be missed.
Directed by Amy Jakiel, Music Direction by Stephen Piotrowski
COVID SAFETY POLICY: As residents of the Shea's Smith Theatre, Second Generation Theatre adheres to the COVID-19 safety procedures set in place by the Shea's PAC. These include patrons presenting proof of vaccination and staying masked throughout the performance. For a detailed list of policies, please CLICK HERE.
Click Here to Access the Digital Playbill!
Cast List
MAN 1 Brian Brown
MAN 2 Steve Copps
WOMAN 2: Genevieve Ellis
WOMAN 2 Michele Marie Roberts
Show Dates
October 22nd-November 14th, 2021
Thursday October 28th & November 11th @ 7:30 pm
Friday October 22nd, 29th, & November 12th @ 7:30 pm
Saturday October 23rd, 30th & November 13th @ 2:00 pm & 8:00 pm
Sunday October 24th, 31st & November 14th @ 2:00 pm
Get Tickets
Single Tickets Now On Sale!
To purchase by phone, call (716)874-0850
FOR TICKETS TO YOUNG PROFESSIONALS NIGHT, CALL OR TEXT (716) 508-7480!